Below are just a few examples of resumes we've
crafted for our clients. Every career situation is unique,
of course, and YOUR new resume will be custom-created to
represent YOUR specific goals.

---

Click Any Resume Sample Below To Enlarge It...


Click Below For More Samples:

Cover Letter Sample
LinkedIn Profile Sample
Thank You Letter Sample
Job Hunt Sample

Career Coach LITE - Audio Sample
(*Career Coaching PRO Includes
Career Coaching Lite's Telephone Coaching)

We Guarantee Results!*

Watch video testimonials recorded by
6 clients ranging from entry-level to executives...
(Several clips were even recorded live in their new workplaces!)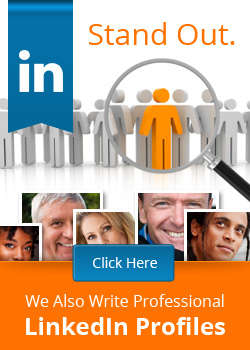 We do MORE than just write resumes...
ResumeWritingGroup.Com is a full service resume writing AND career coaching company. To maximize your chances of getting the job YOU want, we recommend purchasing several additional services along with your new resume. These include having us write an attention-grabbing cover letter, an eye-catching "thank you" letter (to send to interviewers after you meet with them), and a flawless LINKED IN® profile. You're likely to do even better in the job market after one of our telephone career coaching sessions and/or after utilizing our "job hunter" service. Want to be even more aggressive about securing great employment? Order our Career Coaching Pro Package for the most comprehensive assistance available ANYWHERE! See our price list for complete details regarding all of our career coaching, guidance, and resume service options...

Curious To See What We Can Do With YOUR Current Resume ?

E-mail it to us and one of our Resume Specialists will reply with just a few examples/ideas
re: how we'd transform it. If you like what they send to you, then HIRE US to do the full job!