Add LIVE Interview Practice To Your Order And We'll Help Get You
Ready To Impress Even The Toughest, Most Straight-Faced Interviewers!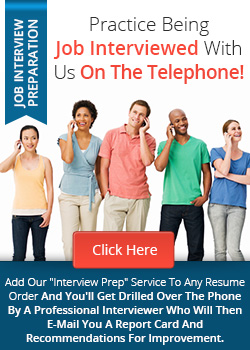 How well you present yourself at job interviews will represent the single most important factor in determining whether or not you're hired. Most applicants only know the most "common" strategies for handling interviews and rarely do anything to make themselves "stick out" in the minds of prospective employers. Our Live Interview Practice Service will provide you with a hotline # and pass for you to call at your convenience and be thoroughly interviewed by phone. Our professional interviewer will shape their questions to "keep you on your toes" and assess your performance. At the conclusion of the call, they'll email you an outline of steps you can easily take to improve your skills AND they'll even include a "report card"---detailing how you did in each of the key interview performance areas.
| | |
| --- | --- |
| Below is a sample excerpt from an Interview Prep Call. Our interviewer carefully times their questions and keeps the client "on their toes." After the interview, the client is e-mailed a report card grading them on a number of criteria and providing advice to help them improve for their next job interview. Every call is based on the client being interviewed and is completely different. Typically, you'll hear more rapid-fire questions and shorter answers. | |
Click The PLAY Button To Listen!
(*This recording was made with the permission of the recorded parties)

<Click Here To Return To Our Prices & Services Page