Career Services By Resume Writing Group
Click Here To Order Career Services and/or A New Resume

Whether or not you hire us to write your new, letter-perfect resume, you can definitely benefit from some of our other professional career building services...
Career Coaching Lite (Session By Telephone) - $69
An experienced career coach will spend at least 1/2 hour on the telephone with you! They'll help you determine what's truly been holding you back and show you what you need to do in order to make your career jump ahead to where you want to be and beyond! Most clients are satisfied with one session but you may purchase additional sessions at reduced rates as needed.


Career Coaching Pro Package - $189 (Telephone Coaching PLUS Written Supplements)

Order our Pro Package and your chances of getting hired
quickly
will increase
dramatically!
. This package
includes
the Career Coaching Lite phone session PLUS the following essential career documents: 1) Your R to Q, 2) Your Character Competencies, 3) Your Benchmarks & Milestones, and 4) Your Resume Supplement.
Job Hunter - $69 (We Find 30 Companies Potentially Interested In YOU As An Employee)
Answering ads in the classifieds and mass e-mailing your resume only markets you to a small percentage of prospective employers with jobs to offer. Purchase our job hunter service and we'll research at least 30 companies who are potentially likely to hire you and email you their contact information!


Click Here To Order Career Services and/or A New Resume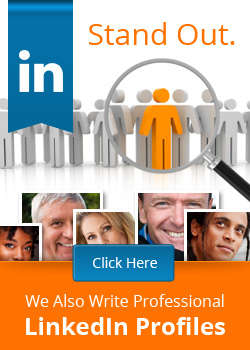 Hiring Us
PAYS FOR ITSELF!

Let's say you invest about $275 in professional resume writing, cover letter writing, and career services on this site. Your career-related investment is almost always a tax write-off---saving you about $50-$75 in taxes; depending on your individual bracket. So let's say you really only "spent" about $200...but now consider...If the work we do for you...helps you land the job you want SEVERAL weeks quicker than any other effort would have, how much more money did you EARN in that time?