Do You Need Resume Writing Services "Near Me?"
When we conduct an internet search for services, most of us tack on that "near me," phrase to ensure we receive local search results. However, when it comes to finding professional resume writers, do you really need to search for "resume writing services near me?" We don't think so, and here are three reasons why.
1. Resume Writers Rarely Advertise Locally
To be honest, one independent resume writer won't possess the funds needed to advertise online so it's unlikely that you can even find those "resume writers near me." Online advertising is pricey, and a local resume writer probably cannot afford it. Instead, they work on sites such as Fiverr, providing freelance resumes for their clients.
We tend to discourage people from using freelance services for their resumes anyway. While they might do an ok job on a basic entry-level resume, these freelancers rarely have extensive experience working on professional or executive-level resumes. It's usually best to hire someone from a professional resume service, provided they employ only experienced, full-time resume writers.
At Resume Writing Group, our team of resume writers has been with us for years, and you can read some of their bios here (link "here" to https://www.resumewritinggroup.com/who_we_are.html). We also belong Professional Association of Resume Writers & Career Coaches (PARWCC) and the National Resume Writers Association (NRWA). The organizations provide support and training for professional resume writers and help keep us up-to-date with the latest trends in resume writing, such as creating resumes suitable for applicant-tracking software.
2. Local Resume Writers Might Not Be The Best
While it's obvious why you'd need a local plumber or a local doctor, it's not as crucial to find a local resume writer. After all, just because someone is local that doesn't mean they are any better than a professional resume writer you find online. When it comes to resume writing, finding the best writers is far more important than finding a writer in your location.
How do you find the best writers? Well, study the website of each resume service carefully. Do they include bios of their writers? If not, they might use outsourcers that aren't always experienced at writing resumes or proficient in using American English.
Do they provide samples of their work? If not, this is a huge red flag. After all, if a company says they provide the best resume services, they should be able to provide you with a few samples of this stellar work.
Do they provide additional services or provide any helpful information? A company that provides services such as cover letter writing, LinkedIn profile writing, online resume writing and career coaching services usually isn't just a basic resume mill churning out lackluster resumes.
Instead, this is more likely to be a professional company serious about helping its clients find great new jobs. If you are investing your money in a resume, you deserve to receive the best possible resume writing services, regardless of whether you hire a local writer or use an internet-based resume company.
3. Those "Resume Writers Near Me" May Not Be Industry-Specific
In many cases, these local resume writers might be able to provide you with a basic business resume that can be used for many typical office jobs. However, it's unlikely that they have the ability to write a resume that is specific to your industry. After all, the resume for an IT professional and a nurse will look quite different from one another.
It's important to select a company that can match you to a resume writer that understands what hiring managers in your industry want to see. A basic, cookie-cutter resume simply listing your education and work experience just isn't enough if you want to impress a hiring manager or recruiter.
While "resume writers near me" might not be your best option, the team at Resume Writing Group can create any type of resume you might need no matter where you are located. Our team of full-time, experienced writers can create entry-level resumes, professional resumes and executive resumes for just about any occupation, including:
Accountant Resume, Bookkeeper Resume & CPA Resume
Architectural Resume
Attorney/Lawyer Resume
Call-Center Resume & Customer Service Resume
Consulting Resume
Dental Assistant Resume & Dental Hygienist Resume
Federal Resume
Graphic Designer Resume
Housekeeping Resume & Janitorial/Custodian Resume
Interior Designer Resume
IT Resume (including resumes for Web Designers, Programmers, Software Engineers, etc.)
Library Resume
Marketer Resume (including Advertising, Public Relations, etc.)
Mechanical Engineer Resume (or any type of engineering)
Nurse Resume (including LVN resumes and an RN resume)
Pharmacist Resume & Pharmacy Technician Resume
Physical Therapy Resume
Social Worker Resume
Teacher Resume (for any level of education from ECE to College)
And that's just the tip of the iceberg. We also are experts at helping people write resumes when changing careers, which can be especially difficult, and we can even help write resumes for soldiers and military personnel transitioning into civilian careers. We also can provide you with attention-grabbing cover letters, thank-you letters for interviewers, keyword-targeted online resumes, LinkedIn profile writing and career coaching services.
Rather than focus your search on "resume writing services near me," contact Resume Writing Group and let us create the perfect resume for you. Our resumes even come with a unique guarantee. If you use our resume and follow our advice but are not hired in 45 days or less, we will refund the cost of your resume and pay you an additional $100. To get started, just click on the Prices & Services tab on our homepage and select the resume services that best fit your situation.
---
« back to ARTICLES
---
Hire Us To Write YOUR New Resume Today!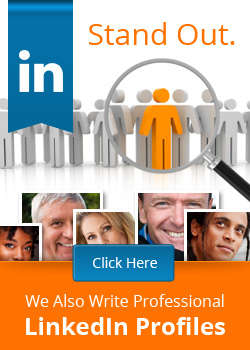 Meet Our Resume Writing Team:
As a group, our team of dedicated professional resume writers has experience creating highly successful resumes for all fields, levels of work experience, and employment situations. Below are a few of their biographies...
Patricia | Brooks | Rita
Amy | Carolyn | Roger
Joseph | Lauren | Tabia
Gabrielle | Rose | Lori