Beyond Resume Writing Services: Other Services We Provide
While our main focus might be crafting first-rate resumes and CVs, resume writing services are not the only services that we provide for our clients. We understand that not everyone is a natural writer or confident about their writing skills, and our team can help you with the following items.
1. Cover Letter Writing Services
Aside from having a fantastic resume, an eye-catching cover letter can increase your chances of gaining that all-important first interview. There are plenty of tips on the internet regarding cover letters, but they tend to be vague and may not apply to you, your situation or the position you wish to earn. Along with our professional resume writing services, we can also create a cover letter that captures the attention of the hiring team.

Because our writers have a great deal of experience in resume writing services and cover letter writing, we know exactly what your potential boss wants to see and what this boss does not want to see. We can design a cover letter that is creative, professional and attention-grabbing without being too verbose.
2. Social Media Analysis
A great cover letter and top-notch resume are fantastic, of course, and create a great first impression. These might get you out of the huge pile of resumes and onto the short list of prospects to consider. You might even have a great first interview, but what about after the interview. These days, hiring teams tend to do some social media homework on all prospective employees. They look you up on sites such as Twitter, Facebook, Instagram and other similar sites. They also will search up your general history using Google, Yahoo or another search engine.

In addition to our resume writing services, we also can do a detailed analysis of your presence in social media and other public information about you. Once we find out what is out there, we can make some recommendations about any changes that you might need to make. After all, you don't just want to appear professional during a job interview; you want to present a professional appearance beyond the interview. You might think social media doesn't have an impact, but if the hiring team is torn between you and another person, and your Facebook feed looks like a disaster or your Twitter account is a train wreck, you might end up being the second choice. Hiring our resume writing service to do a detailed social media analysis is a great first step to take prior to submitting your resume.
3. Career Coaching Services
Deciding on the ideal career can be enormously difficult. You might have training that prepares you for a variety of jobs but aren't really sure which one is the best fit for you. If this is the case, prior to using our resume writing services, consider setting up a career coaching session with one of our team members.

Our basic career coaching service includes an in-depth telephone session that uncovers the types of careers in which you will excel. Additionally, we also provide you with guidance for that first job interview. This includes how to answer interview questions clearly and confidently. Everyone is nervous during an interview, but if you've had some coaching, you will feel much more confident and this confidence will be apparent to the people responsible for hiring. In addition to our telephone career coaching option, we also have a more in-depth coaching option that includes your coaching session as well as a written assessment, a write-up that analyzes the strategies for your resume and a helpful interview guide that is customized based on your skill set and personality. This guide will help you maximize your strengths during interviews and help you win-over potential employers.
4. Letter Writing Services
Often when you submit a resume, you need to include a cover letter, the actual resume and a few letters of recommendation. Sometimes a previous employer will be happy to sing your praises but either doesn't feel confident about his or her writing skills or perhaps is simply too busy to really craft a great recommendation for you. In these cases, they will sometimes ask you to write the letter, which they will review and sign.

These letters of recommendation can be quite important, so if you need one or more, why not hire a resume writing service to complete this task as well as your resume? We can create powerful recommendation letters that will persuade employers to call you in for a job interview.

After you've had some coaching, cleaned up your social media and we've written a cover letter, resume and letters of recommendation for you, securing a job interview should be a snap. Once you've had the interview, it is wise to follow up with a thank-you letter letting the potential employer know that you are grateful for the opportunity to interview. A thoughtful, creative thank-you note can provide that extra boost that pushes you to the top of the hiring list and we can write thank you letters for you as well.

These are just a few of the resume writing services that we provide for our clients. To learn more about our services, click on the Our Services tab on our homepage. We look forward to working with you and preparing you for the job of your dreams.
---
« back to ARTICLES
---
Hire Us To Write YOUR New Resume Today!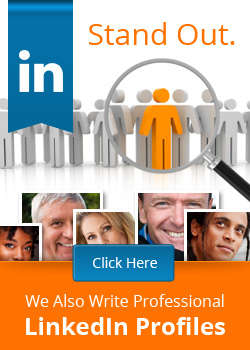 Meet Our Resume Writing Team:
As a group, our team of dedicated professional resume writers has experience creating highly successful resumes for all fields, levels of work experience, and employment situations. Below are a few of their biographies...
Patricia | Brooks | Rita
Amy | Carolyn | Roger
Joseph | Lauren | Tabia
Gabrielle | Rose | Lori