Helpful Services From A Professional Resume Writing Service
A professional resume writing service can craft many different types of resumes, from entry-level to executive resumes and more. However, at Resume Writing Group, we actually provide more than just fantastic resume writing services. We have a myriad of services that can make your job hunting experience as successful as possible.

As a professional resume writing service, we understand that our clients often need more than just a professional, high quality resume. For instance, cover letters often are included along with a resume and these can be tough to write. You need to create a cover letter that grabs the attention of the reader, typically a hiring manager who is sifting through dozens of cover letters and resumes. We can create a compelling, attention-grabbing cover letter than will make the hiring manager want to turn to the next page and peruse your resume.

Before you head out on a job search, it's wise to polish up your professional profile a bit. We can help in this area, as well. Our professional resume writing service employees can create a strong LinkedIn profile tailored specifically for the types of job for which you are applying. Many employers search for the LinkedIn profiles of prospective employees, and if your profile is top-notch, this can set you apart from other candidates. At Resume Writing Group, we can either revise and update your existing LinkedIn profile or create one for you from scratch.

Once you have your resume, cover letter and a LinkedIn profile, you are just about ready to start submitting resumes. But where do you send these resumes? You probably have five or six companies in mind, but there are usually many more options to consider and we can help. Our professional resume writing service also has a Job Hunter option where we research companies within or near your target zip codes and compile a list of 30 companies that are likely to hire you.

In addition, our professional resume writing service has partnered with JobsByFax.com, and this service can help you locate thousands of prospective employers in any geographic region that you select and then will fax your resume directly to these companies. If fact, they will fax your resume to up to 1,000 different companies, which greatly increases your chances of finding a job. This company has a huge database with more than 3.6 million employers, and all you need is a great cover letter and resume, which we can provide for you.

All of these extras that we offer at our professional resume writing service are sure to get you an interview, but you also need to polish up your interview skills and we can help with this, as well. We have two career coaching packages that help you learn the best ways to showcase your strengths during the interview process. To learn more about these packages, check out the Career Coaching/Counseling Services section on our home page.

Finally, after you have completed those all-important interviews, it is wise to send a short thank you note to each hiring manager or hiring team. We can provide you with this service as well, and at our professional resume writing service, we have found that people who remember to thank potential employers for the interview tend to stand out from other applicants.
---
« back to ARTICLES
---
Hire Us To Write YOUR New Resume Today!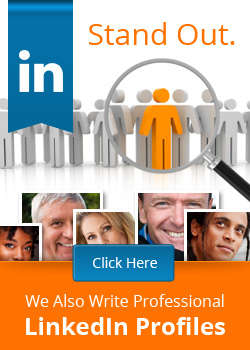 Meet Our Resume Writing Team:
As a group, our team of dedicated professional resume writers has experience creating highly successful resumes for all fields, levels of work experience, and employment situations. Below are a few of their biographies...
Patricia | Brooks | Rita
Amy | Carolyn | Roger
Joseph | Lauren | Tabia
Gabrielle | Rose | Lori