7 Essential Tips For A Perfect Resume
They say you never get a second chance to make a first impression, and your resume serves as your first impression for hiring managers. Therefore, you need to create a resume that differentiates you from the other job candidates. Here are a few tips to help you create that perfect resume.
1. Do Some Research & Get Organized
The first step to building the perfect resume is to gather all of the important information about you and your work history, educations, certifications (if applicable) and skills. But you also need to start looking at job postings and think about the type of job you want.
Take a look at what's available and research each of the companies that are posting job openings. Head to the company websites and read about their mission statement and work philosophy and do an internet search for each company to see what others say about these firms. We spend a huge portion of our life at work, so it's important to find company cultures that will help you reach your full potential.
Of course, sometimes you can't afford to be picky, but, at the very least, you need to find job postings that truly fit your skillset. If you find that your dream job requires skills you don't possess, consider finding a way to learn those skills. You will be more productive and feel more comfortable when you apply for jobs where you possess the right skills and can truly make an impact and help the company achieve its goals.
2. Customize Each Resume
Never send out a cookie cutter resume to a bunch of hiring managers. You need to customize each resume for the specific job posting. The job posting essentially tells you what hiring managers want to see. The job posting is basically an outline for the perfect resume for that company, so don't ignore it and just send in your basic, one-size-fits-all resume.
If you are adding a cover letter, we also highly recommend that you track down the name of the hiring manager and address the letter to that person specifically. Simply writing "To Whom It May Concern," seems a bit lazy, and it's always best to do a bit of work and find out the name of the person in charge of interviews and hiring.
3. Quantify Your Skills
Hiring managers are looking for soft and hard skills when they read through resumes. Hard skills include skills such as certifications you have earned or software programs that you know how to use, etc. Soft skills are more difficult to express, but these include skills such as creativity, problem solving and teamwork.
You can't just state that you have good people skills or communication skills, because anyone could just state that on a resume. A perfect resume will highlight the skills by showing clear examples of what you can accomplish.
For instance, if you want to highlight your organizational skills, you might state that you created an inventory management system for your company. An even better approach would be to state that you, "Designed a company-wide inventory management system that reduced supply costs by 40%." This provides the hiring manager a glimpse at how your skills benefitted a company.
Remember a resume is not about what you want, it's about what you bring to the table. Obviously, you want a great job and a rewarding career, but if you want to get hired, you need to be able to show how your skills benefit an employer.
4. Don't Use A Resume Builder
While using professional resume writing services is a great idea, if you want the perfect resume, we recommend that you skip those so-called "free" resume builder websites. These sites might help you create a decent design and help you organize the resume, but they don't help you write the content and content is what matters with a resume. Your resume might look nice, but if there are errors or the writing is simply lackluster, then it's not going to inspire a hiring manager to call you in for an interview.
Additionally, many "free" resume builders aren't free. Once you've created your resume, they will ask you for credit card information. This will be used to pay for a membership that provides you with access to resume templates. Usually, this will be advertised as a 7-day free trial or something along those lines.
This is fine, provided you remember to cancel within that time frame and that you can find where to go on the website to actually cancel the service. These resume builders are banking on the hope that you forget for a couple of months, and they can charge you $29 or more a month for services that you aren't even using.
5. Edit, Edit & Edit Again
There have been many polls and studies where hiring managers have been asked about what makes them toss a resume into the bin. Careless errors are always at the top of the list, and even a single spelling error can keep you from gaining that all-important interview.
Never rely on the spellchecker built into your word processing software, and even quality software such as Grammarly can miss a mistake or two. In addition to using software, you need to read over your resume carefully and hand it off to one or two trusted friends or family members. Even at Resume Writing Group, our experienced writers will hand off your resume to a second professional writer. This second person will edit it for spelling, grammar and syntax mistakes, but also evaluate the strategy of the resume to ensure that this document does all it can to "sell" you to hiring managers.
6. Don't Go Overboard With The Design
There are plenty of examples online of funky resume designs, but they just aren't necessary. For hiring managers, the perfect resume is a well-organized, one-page document with a clean, crisp style and zero errors. Stick with a single, highly readable typeface and use variations of that typeface to add a bit of flair, such as this example, which uses Calibri as the typeface.
Work Experience
SMITH & SMITH MARKETING | CHICAGO, IL
2017-Present
Managed 12-person marketing team with $2 million in annual billing
Created presentation materials for large-scale trade shows
Designed the onboarding process for new clients, improved efficiency by 50%
Managed company-wide social media accounts, resulting in 30% higher monthly client acquisition rates
This is a very basic example, but you can see that this section is easy-to-read and well-organized, which is all a hiring manager wants to see. Additionally, most resumes are run through applicant-tracking software. This software is not programmed to read unusual fonts and weird design elements. Use basic typefaces and standard margins so that your professional resume appeals to both hiring managers and software.
7. Hire A Professional
Our tips can help you get started, but many people find that they still struggle when creating their resumes. We cannot tell you how many times we reviewed a client's resume and found errors, inconsistent style and a lackluster approach to writing the resume.
Additionally, many people simply are uncomfortable writing about themselves and their accomplishments, but a professional resume writer will have no trouble extolling your virtues and creating a resume that highlights all of your skills.
If you truly want the perfect resume, our best advice is to hire a professional. There are many resume writing services out there but Resume Writing Group has some advantages that set us apart from many of these resume companies.
We hire only full-time, experienced resume writers, and we don't outsource. Our writers either live in the United States or Canada. Too often resume services outsource and use writers from countries where English is not the first language, or they speak a different style of English, and you may end up with a resume that reads awkwardly.
At Resume Writing Group, we also offer a unique guarantee that no other resume writing service offers. If you use our resume and follow our advice, but you aren't hired in 45 days or less, we will refund the cost of your resume and pay you an additional $100. This is how certain we are that we can create the perfect resume for each client. To get started, just head to the Prices & Services tab on our homepage and click on the services that best fit your current resume needs.
---
« back to ARTICLES
---
Hire Us To Write YOUR New Resume Today!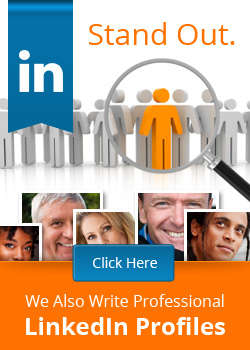 Meet Our Resume Writing Team:
As a group, our team of dedicated professional resume writers has experience creating highly successful resumes for all fields, levels of work experience, and employment situations. Below are a few of their biographies...
Patricia | Brooks | Rita
Amy | Carolyn | Roger
Joseph | Lauren | Tabia
Gabrielle | Rose | Lori