5 Reasons To Skip Using A Resume Builder
Using a free resume builder or resume creator might seem like an easy way to create your resume, but while these websites might provide you with interesting designs, they aren't usually the best option and there are several reasons why, including:
1. They Don't Help With Content
A resume builder provides you with a template and you have to fill in the blanks. This might help you organize the basic format, but the content is left up to you. Resume writing can be tricky as it's a unique style of writing. Even people with strong writing skills sometimes stumble when trying to create their resume, and a resume creator or resume builder program isn't going to provide any advice.
A resume builder may provide many interesting design options, but resume design isn't as important and the content. Hiring managers aren't sifting through resumes searching for amazing designs, they are searching for job candidates that possess the skills needed for a specific job. If your resume looks great but doesn't include the type of information a hiring manager wants to see, it's not going to generate results.
2. Errors May Be An Issue
Because a resume creator doesn't help you generate the content, this also means they don't provide you with any editing advice. If a professional resume includes even one careless error, a hiring manager is likely to just toss that resume in the trash. You also can't simply run the resume through a spellcheck program and expect that this software will catch all of the errors.
3. They Aren't Industry-Specific
A typical resume builder is a cookie-cutter type of template meant for multiple industries. They will include basic sections such as the summary, education and work experience. However, it doesn't really help you design a resume for your specific industry. For example, the components of a nurse resume will differ from the components of an interior designer resume. You may need additional sections specific to your industry such as a section for skills or certifications.
4. They Might Not Be ATS-Compatible
While a cool resume design might look fun, it's typically not a good idea to choose a funky design. Applicant tracking software (ATS) is used to review most resumes that are submitted electronically. These software programs don't recognize weird margins or unusual typefaces and fonts.
An ATS-compatible resume is a must-have tool in your job-hunting arsenal. This means you need a resume with basic margins and common typefaces, such as Times New Roman, Calibri, Cambria, Garamond, etc. When you select a design with multiple columns or graphic elements, this resume might not be ATS-compatible. It's usually best to stick with a basic format that software and people can read easily.
5. "Free" Resume Builders Often Include A Cost
In some cases, a resume builder or resume creator will state that they offer free services. However, after you build your resume, they will ask for your credit card in order to download the resume and print it out.
Usually, they offer a 7-day free trial for their services and state that you can just cancel in the next few days at no charge. The problem with this is that they often make it difficult to find the place on the website where you can cancel the subscription, and this can be frustrating. Likewise, if you forget to cancel the "free" trial, they often auto-charge you $20 or even $30 per month, every month. This cost can add up, and it might be a few months before you notice the auto-charge.
In the final analysis, it's better to do some research about the proper way to set up and write a resume or to hire a professional resume writer. Professional resume services are almost always the best way to go because the writers have experience writing resumes for many industries and they know what hiring managers want to see. They can provide you with a high-quality, dynamic, error-free resume that attracts the attention of hiring managers and recruiters.
Why Use Resume Writing Group?
In addition to resume builder services, there are a ton of resume writing services out there, so why should you choose us? There are several reasons why we believe that our service stands above the rest.
For one thing, we hire only full-time, experienced resume writers from either the United States or Canada. This is important because many resume services outsource their work to freelancers who might not know much about resume writing and also might not be as familiar with English as an American or a Canadian. These services will charge the same rates as we do, but you aren't paying for the same level of service.
We also offer a myriad of extra services. If you need a cover letter, we can write that for you. If you need to build a LinkedIn profile, we can help with that. If you are having trouble figuring out why your career seems stalled, we can provide you with career coaching services. We offer everything you need to jumpstart your search for a great new job.
Additionally, we stand behind our work with a unique guarantee. If you use our resume and follow our advice, but are not hired in 45 days or less, we will refund the cost of your resume and give you an additional $100.
Unlike a resume builder, we guarantee that when you use our service, the result will be a job-winning resume. To get started, you can click on the Prices & Services tab on our homepage, or simply click on the Get Started tab, provide us with some information and a professional resume writer will get started on your resume as soon as possible.
---
« back to ARTICLES
---
Hire Us To Write YOUR New Resume Today!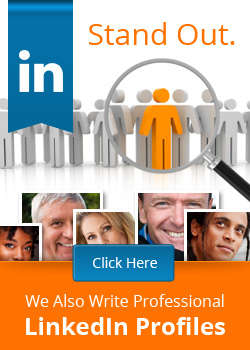 Meet Our Resume Writing Team:
As a group, our team of dedicated professional resume writers has experience creating highly successful resumes for all fields, levels of work experience, and employment situations. Below are a few of their biographies...
Patricia | Brooks | Rita
Amy | Carolyn | Roger
Joseph | Lauren | Tabia
Gabrielle | Rose | Lori